(
Gordon Ball
at the library's Meeting Room on Tuesday, October 7th.)
Beat historian, underground filmmaker and author
Gordon Ball
came to speak at the Greenwich Library on Tuesday night, October 7th, in the Meeting Room. Mr. Ball, who currently teaches English at Virginia Military Institute in Lexington, read from his memoirs
'66 Frames
(1999),
Dark Hill
(2006) and
Scenes From East Hill Farm: Seasons With Allen Ginsberg
(2007), and showed a slide presentation of his program on the Beats,
Ginsberg & Beat Fellows: Writings & Photographs by Gordon Ball
, coincidentally the title of that night's program.
Mr. Ball read from his books about his first meeting with Ginsberg, how the poet talked him into overseeing his farm in upstate New York and how he met such Beat (and Beat-related figures) as
Gregory Corso
,
Lawrence Ferlinghetti
,
Robert Creeley
,
Peter Oslosky
and
Anne Waldman
. Ginsberg had hoped the farm he bought in 1968 would be a haven for his fellow artists to "cleanse" themselves (like Corso and Oslosky, who had
major
chemical dependence problems) and held out the ultimately futile dream that old friend
Jack Kerouac
(already a full-blown alcoholic by that time)would come by for that purpose. Needless to say, that never happened.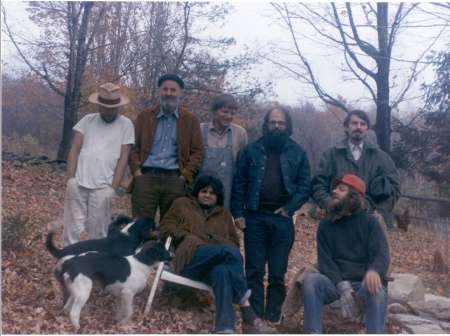 (Gordon Ball and friends at Ginsberg's East Hill Farm, appx. 1969.)
Below is a picture from Mr. Ball's
Beat Fellows
presentation: a picture he took of Ginsberg and fellow Beat (and all-around scary guy)
Herbert Huncke
: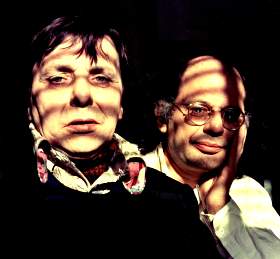 More of Mr. Ball's pictures can be found on his web site
here
. If you click on a photo, you'll see both a larger image and a description of the picture and what led up to that particular moment. (Lots of good stuff!) This picture below taken by Mr. Ball is a favorite of mine: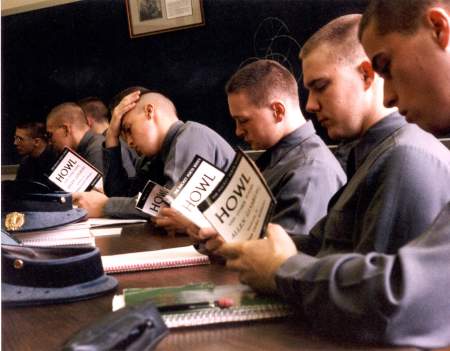 Mr. Ball graciously gave us a copy of his
'66 Frames
memoir and expressed hope that a longer version of
Scenes From East Hill Farm
(which he's completed) will see the light of day soon. -Ed
See also
: Bill Morgan's
I Celebrate Myself: The Somewhat Private Life of Allen Ginsberg
(which can be found
here
and Mr. Morgan's collection,
The Letters of Allen Ginsberg
.