On January 16, 2008, at 7:00 pm in the Meeting Room, Greenwich Library's
Classic and
Cult Television
program will present an episode (two, if we have time) of the long-running
Perry Mason
series. Starring Raymond Burr as the title character, the
dead serious
whodunit/murder mystery series (which ran from 1957-66 on CBS) was based on the long running mystery novels and short stories by Erle Stanley Gardner (1889-1970)about an attorney whose clients always seemed to be accused of murder.
The show's familar but popular formula (taken from Gardner's books) usually had one of Mason's clients say or do something towards another person (often a disloyal business partner, old pal or spouse), usually in front of witnesses, then sometime later wind up charged with the latter's murder. Mason, assisted by secretary Della Street (played on the show by Barbara Hale) and private detective Paul Drake (William Hopper), would track down evidence that would exonerate the client during the trial AND get the real guilty party to confess right in the courtroom at the same time! (Sometimes this formula would be tweaked, with, say, the killer confessing after getting caught outside the courthouse and/or another location.) Mason's friendly nemesis District Attorney Hamilton Burger (William Talman), along with cynical LAPD detective Lt. Tragg (Ray Collins), both presenting the prosecution's case, would always hear the familiar words "case dismissed" (or a variation of them) at the end of every episode.
For it's time, the series was one of the best-
looking
shows of the period. The almost
noir
-ish black and white photography greatly contributed to lend a sense of mystery (especially in the night scenes, which unlike other shows at the time doesn't look shot with cheap day-for-night filters). The courtroom sequences often take up the second half of the episodes, yet the combined dynamics of deft writing (in addition to adapting Gardner's stories, original ones were used as well), acting and direction overcome any limitations such interior scenes could have and made most episodes stand out dramatically. You don't even question why any murderer would break down and confess in front of witnesses at the climax after following the story's well done build-up.
More importanly, the show worked thanks to it's appealing cast. After a horrible experience with Warner Brothers in the 30's (that studio did "comedy" movie versions of the books, with miscast actors like Warren William and Ricardo Cortez playing Mason as a hard-drinking, ladies' man type who was always broke and trying to avoid marrying his secretary), Gardner had reasonbly full creative control of the television series and personally approved of the cast.
Raymond Burr's Mason is steadfastly loyal to his clients, no matter how unstable some of them might seem. Despite facing all kinds of threats to his career and even his life, Burr's Mason keeps his cool. (One sequence in 1958's "The Case of the Lucky Loser" has Mason, after refusing to buckle under a threat by another, more influencial attorney to drop his current case, actually serve a suppoena to the bullying lawyer, ordering him to testify in court regarding the case in question!) Aided by loyal Della and Paul,who provide the investigative legwork, there's never any doubt in the audience's mind that Mason would let an innocent person take the rap. Even DA Burger & Lt. Tragg grudgingly admire and respect Mason's character and conviction, despite their losing so many cases to him. (In later years, Burger and Tragg not only sometimes assist Mason in his cases, and vice versa, but are even seen socializing with him and his associates after hours!)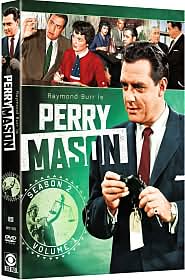 More info on the Mason series can be found
here
. For anyone would likes a good brain-twisting mystery, the
Perry Mason
books (which we carry in our
Mystery
section on the second floor) and television series (we'll be carrying the first 15 episodes from the 1958-59 season after the Classic TV showing here next month) are recommended! -Ed